City's gift to Kennedy is unaccounted for By Bud Kennedy Star-Telegram Staff Writer
President Kennedy acknowledges applause at the Fort Worth Chamber of Commerce breakfast 40 years ago today after receiving a Shady Oak Western hat as a gift from the city.
On this morning in 1963, Fort Worth gave President John F. Kennedy our hearts and our most treasured gift.
Forty years later, one tiny mystery remains.
What happened to JFK's Western hat?
No souvenir has ever symbolized Fort Worth and Texas like the Shady Oak Western hat, given to nine presidents since 1923 in a tradition begun by Star-Telegram Publisher Amon G. Carter Sr.
We gave Kennedy a Western hat at the morning breakfast at the Hotel Texas, now the Radisson Plaza Fort Worth.
He never wore it.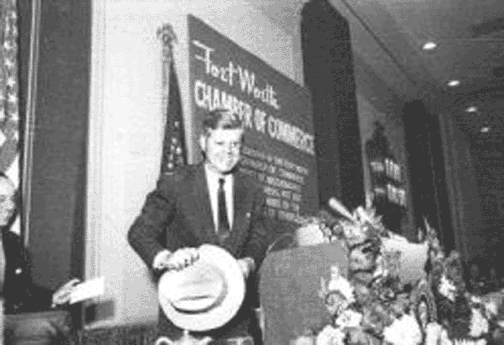 And it has never been seen again.
"I've heard Granddad tell over and over about making that hat," said Joe Peters Sr., 58, in his family's Peters Brothers Hats store in downtown Fort Worth. "I wish we could find it."
Peters Brothers Hats is on a block of Houston Street that has changed little since 1963.
On that Friday morning, hatter Tom Peters came downtown early and walked the block behind his shop to join the crowd around the Eighth Street stage in front of the hotel.
He had already creased and delivered a white felt Western hat for Kennedy, even though the president rarely wore hats.
Every important guest to Fort Worth got one of Peters' Shady Oak Western hats. Kennedy would be no exception.
Peters, an immigrant from Greece, who started the hat shop in 1911, was among those in news photos pushing forward to shake Kennedy's hand after he greeted the crowd on a gray, drizzly morning.
Inside the hotel, lawyer Raymond Buck, the Fort Worth Chamber of Commerce president, grinned as he handed over the Western hat before Kennedy would address the breakfast.
"Mr. President," he began, "we know that you don't wear a hat."
The crowd laughed as Buck went on: "But we couldn't let you leave without providing you with some protection from the rain."
Kennedy grinned back and glanced at the photographers waiting to snap his photo in a "cowboy hat."
He'd be glad to pose in it, he said.
"If you come to the White House Monday morning."
The breakfast crowd responded with a combination laugh and groan. For 40 years, Fort Worth had seen hundreds of visitors try on hundreds of Shady Oak Western hats, all duly pictured the next day in the Carter family's Star-Telegram.
TV news film of the Kennedys climbing into a convertible for the motorcade to then-Carswell Air Force Base does not show anyone carrying the hat box. It was probably collected by an aide.
The Kennedy Presidential Library and Museum in Massachusetts, home of many Kennedy gifts, does not have the Western hat. A museum staff member came looking for the Western hat in Fort Worth a few years ago, said Joe Peters Jr., 35, the heir to Peters Brothers' 92-year tradition.
"I think it's still in a box in Fort Worth or Dallas somewhere," Joe Jr. said. He has heard the Western hat might have been handed off to someone at the air base.
Reporters have checked the National Archives. No Western hat.
"Granddad was really proud of that hat," Joe Sr. said. "Of all the presidents and movie stars, [the one for Kennedy] was one of his most memorable."
The Western hat was standard, not showy: a snow-white Shady Oak with a 2 3/4-inch brim, Joe Sr. said. "Everybody who was somebody wore one."
Joe Sr. remembers the presidential visit, but he was at work driving a delivery truck for a wholesale drug company that day. He carried a portable radio that crackled with the news of the assassination.
"I just remember how hard the news hit everybody," he said.
When Tom Peters Sr. died at age 100 in 1991, daughter Helen Peters said her father proudly made hats for any "good Democrat."
He also made hats for Republican Presidents Dwight Eisenhower and Gerald Ford. "Dad said they were good people," she said, "even if they were Republicans."
The lost Shady Oak Western hat might be the only missing souvenir from the Kennedys' Fort Worth visit.
The artwork that was borrowed to decorate the hotel's Suite 850 was returned to local museums. Invitations to the breakfast — more than 2,000 were sent — are cherished collectibles. The convertible Kennedy rode is for sale on the Web for $1 million. The Texas Christian University library has archives of the speech and visit, including a home movie.
We remember the day a spirited, happy, courageous president came to Fort Worth.
What a shame we never got to see him wear our Western hat.